Draft Strategic Plan Consultation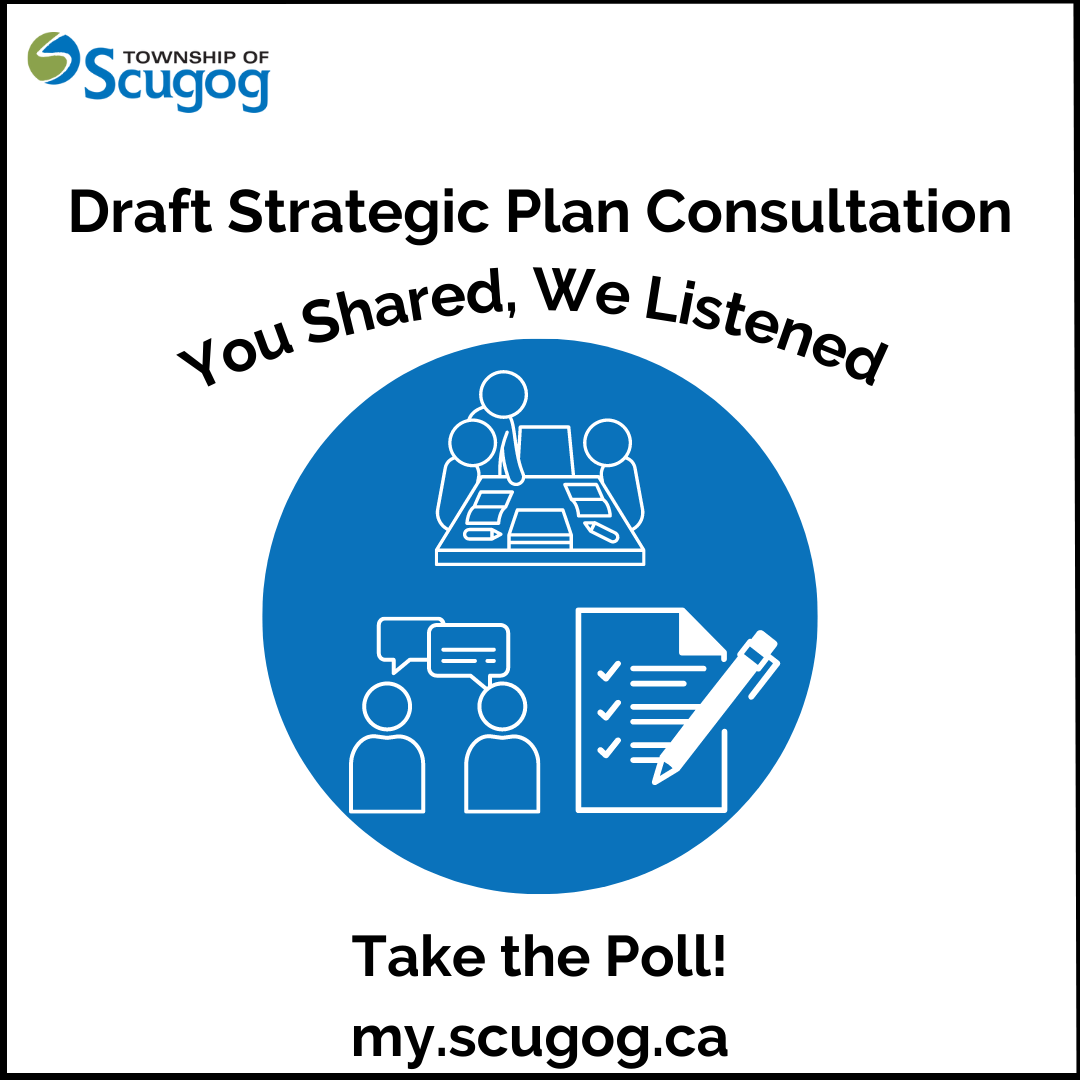 Scugog consultation continues on the proposed 2023-2026 Strategic Plan
You Shared, We Listened 
The Township began the process to update the Corporate Strategic Plan. The previous Strategic Plan provided a good foundation for the Township this update presents an opportunity to continue this work while growing and evolving our Corporate Strategic Plan. The 2023-2026 Corporate Strategic Plan will be an important resource for the Township and will: 
Identify a clear vision for the Township
Define strategic directions and key objectives
Include actions that reflect the community interests
Provide a guide for the Township that informs decision-making and department workplans 
The strategic plan has evolved since its inception in the previous term of council. The proposed plan includes input received from the community, stakeholders, Council and staff identifying the areas of important focus and services valued by the community. A draft report came forward to Council on January 30, 2023 with an outline of the updated Vision, Mission, Values, and Strategic Initiatives.
Thank you to those that have provided input so far in the process. The draft plan is available for review on the Township's engagement site My Scugog, Our Community and your feedback is needed. Based on the proposed initiatives, a poll has also been developed highlighting key initiatives for residents to review.
Township staff will also be available at the Scugog Community Recreation Centre (1655 Reach St., Port Perry) on Family Day (February 20, 2023) to provide an in-person overview of the draft plan and answer questions. Additional in person opportunities will be announced on social media. Please follow @TwpofScugog for updates.  
Questions on the plan and the process can be posted directly on the project page my.scugog.ca/strategicplan or by email to lfitton@scugog.ca
Project Lead: Lisa Fitton, Manager, Office of the Mayor, CAO & Strategic Initiatives, Township of Scugog 905.985.7346 ext. 116, lfitton@scugog.ca
Media Contact: Lori Bowers, Director of Community Services, Township of Scugog, Township of Scugog 905.985.7346 ext. 116, lfitton@scugog.ca
 @TwpofScugog