Durham Region and Township of Scugog Welcome North American Manufacturing Company Tessera Group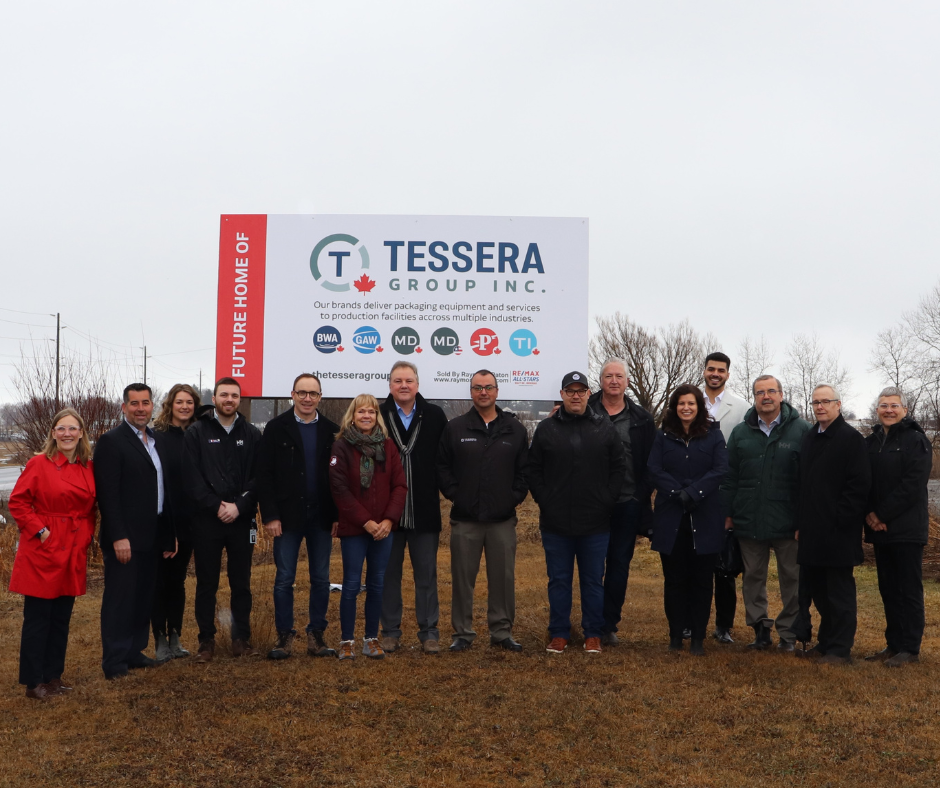 The Region of Durham's Economic Development and Tourism Division (Invest Durham), in collaboration with the Township of Scugog, is excited to announce that the North American manufacturing company, Tessera Group Inc. (Tessera Group), will be building its new corporate home in north Durham.
Tessera Group has purchased the property at 181 North Port Road in the Township of Scugog with plans to build the company's new corporate headquarters building—combining its various locations across the Greater Toronto Area under one brand new roof in north Durham. This new investment will include 95 jobs.
Invest Durham and the Township of Scugog are dedicated to economic growth, job creation, revitalization and investment attraction, and work together to support the growth and expansion of both local and global organizations to invest in Durham Region.
Building a strong and resilient economy that maximizes opportunities for business and employment growth, innovation and partnership, is highlighted in the Region's Strategic Plan, and supports both the 2023-2027 Growing North Durham Rural Economic Development Action Plan and Ready Set Future: A PLACE Blueprint for Durham.
To learn more about economic development in Durham Region, visit InvestDurham.ca.
Quotes
"I'm pleased to welcome Tessera Group to Durham Region as they consolidate operations and expand their business in the Township of Scugog. North Durham is an exciting place to grow your business and offers major advantages. Not only does Scugog provide an ideal quality of life where you can enjoy a vibrant rural retreat with small-town charm, but it's also an area with a skilled and educated workforce that is in demand."
       - John Henry, Regional Chair and Chief Executive Officer, Region of Durham
"Building a new facility is no easy task, however, the decision of where to build our new headquarters was made easy, in large part due to the incredible teams at Invest Durham and the Township of Scugog. They are clearly motivated to bring skilled trade and technology jobs within the Advanced Manufacturing sector to north Durham. We are greatly appreciative of the Community Improvement Plan incentives and look forward to enjoying those throughout the building process. Above everything else, it was the excitement and enthusiasm to welcome companies like ours, that was so enticing. We are really looking forward to becoming a part of the community and culture of Port Perry. For other companies considering a new location and community to grow within, I would highly encourage them to consider Durham Region."
       - Brett Payne, Chief Financial Officer, Tessera Group Inc.
"On behalf of the Township of Scugog Council, I am thrilled to wish Tessera Group a warm welcome to Scugog. We are beyond pleased that working with Invest Durham, the Township of Scugog was highlighted for this opportunity. This is such wonderful news for our community, and we are happy to hear that the process for selecting the location was made easy due to our Township staff and Invest Durham. Thank you to Durham Region for their continued support and pursuit of investment opportunities for Scugog."
       - Wilma Wotten, Mayor, Township of Scugog
"This is an exciting announcement for Durham Region, and I want to welcome the Tessera Group to our vibrant northern community. I am proud of the work Invest Durham, alongside the Township of Scugog, has done to bring this relocation project to life and to continue growing north Durham's robust and rural economy."
       - Simon Gill, Director of Economic Development and Tourism, Region of Durham
Quick Facts
North Durham is made up of the three northern Townships of Brock, Scugog and Uxbridge within the Region of Durham, and covers approximately half of the total land area of the region. In co-operation with the three townships, the 2023-2027 Growing North Durham Rural Economic Development Action Plan was created to focus on projects and programs that help foster a vibrant and resilient northern economy.
Invest Durham focuses on supporting the growth, expansion, relocation and creation of both local and global organizations in Durham Region, and offers several services for prospective investors. Invest Durham is dedicated to leading, facilitating and supporting various investment attraction and expansion initiatives in Durham Region. To learn more about the Durham Advantage and Invest Durham initiatives, visit InvestDurham.ca.
The 2023-2027 Ready Set Future: A PLACE Blueprint for Durham strategy and action plan was developed collaboratively with partners from Durham Region's academic, business, and public sectors, and with partners from the area municipalities, innovation community, and the arts and creative sectors. The plan sets out an economic development vision for the region three decades into the future, starting with a Five-Year Action Plan.
The Township of Scugog provides opportunities for businesses and employers to flourish professionally, while establishing a quality of life through a four-seasons lifestyle offering: access to Lake Scugog, historic downtown Port Perry, and a world-class local health-care system. 
In 2022, following the merger of George A. Wright & Son Toronto Ltd., Penmar Automation Inc. and MD Packaging Inc., Tessera Group Inc. was formed. Combined, the group has more than 100 years of experience in the manufacturing sector.
Tessera Group Inc. manufactures packaging and containers; combining design, fabrication, sales, service, parts and consumables to deliver value to partners across multiple industries, including the food, pharmaceutical, automotive and general manufacturing industries. To learn more about Tessera Group Inc., visit TheTesseraGroup.com.
About Durham Region
Located on the eastern side of Greater Toronto Area (GTA), Durham Region is where the excitement of the city and the tranquillity of countryside meet. Home to three post-secondary institutions, an established energy cluster, strong transportation network, diverse business ecosystem and talent pipeline, and a range of industrial and commercial properties, Durham Region is an ideal place to start, relocate, or build a business. Visit durham.ca to learn more about one of Canada's fastest growing communities.
For media inquiries, please contact Corporate Communications.