Whose Road is It?
Roads within the Township of Scugog are maintained by three separate authorities: the Ontario Ministry of Transportation (MTO), the Region of Durham, and the Township of Scugog.
Highway 7/12
Highway 7A (Scugog Street)
For maintenance issues, please contact:
Ministry of Transportation
Website: www.511on.ca 
Phone: 416-235-5462
Region of Durham Maintained Roads
Regional Road 2, Simcoe Street
Regional Road 6, Saintfield
Regional Road 7, Island Road
Regional Road 8, Reach Street
Regional Road 19, Shirley Road
Regional Road 21, Goodwood Road
Regional Road 23, Lakeridge Road
Regional Highway 47
Regional Road 57
For maintenance issues, please contact:
Region of Durham
Website: municipal311.ca
Email: info@durham.ca
Phone: 311
Township of Scugog Maintained Roads
Streetlights
The Township owns and maintains over 1680 streetlights within Scugog.  These lights are regularly patrolled to identify issues however we appreciate your help in identifying street light issues as well.  Please be aware that street lights will typically be repaired within 4-6 weeks under normal circumstances.  Delays may occur periodically due to the type of repair required, contractor scheduling conflicts, shipment of parts, weather delays and emergencies. 

Roadside Maintenance
The Township is responsible for the following roadside maintenance:   
picking up of garbage and debris 
cutting roadside grass 
cleaning up brush 
trimming trees dangerously hanging over the road
Picking up and disposing of road kill - If the animal in question is a cat or a dog please contact Scugog Animal Control Centre at 905-985-9547 - they will pick them up and scan for a chip to find the owner.

Ditching
As time progresses ditches can become overgrown and begin to prevent the drainage of water.  Each year sections of ditching throughout the township are cleaned out to rectify drainage issues.  Although we do our best to address these issues in a timely manner, we are currently operating in a reactive state.  Our goal is to get to the proactive state where routine rotation of ditch maintenance can occur. 

Grading
Gravel roads require routine grading in order to keep the surface in good condition.  Grading helps rid gravel roads from potholes, reinstates proper grade for drainage and redistributes the gravel for longevity.  Gravel roads are resurfaced in accordance with the asset management plan. 

Dust Suppressant
To control dust on gravel roads dust suppressant is applied.  However, its effectiveness is a function of weather and traffic volumes.  
The Township of Scugog sprays all of the gravel surface roads with dust suppressant to aid in keeping the dust down.  Each gravel road will get one full application of dust suppressant.  If budget allows, certain high traffic gravel roads may get a second coat.  
Magnesium chloride is used for dust control on gravel roads. Attracting moisture from the atmosphere helps form a crust and hold the road fines into the aggregate surface. The performance depends on temperature, relative humidity, and traffic.

Sidewalk Maintenance and Replacement
Sidewalk replacement work involves the replacement of the miscellaneous sidewalk bays across the Township.  These bays are typically identified through the Townships yearly sidewalk inspection program.  The scope of this work includes sidewalk bays that are damaged, heaved or that have settled.  On average 1 to 3 sidewalk bays may be replaced per location, however more may be necessary depending on the existing conditions.  Minor damage or visual aesthetics do not warrant the replacement of a sidewalk bay.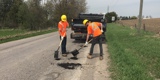 Potholes
Potholes are a continuous maintenance concern across Ontario.  Below is some information on what can cause potholes and how they are repaired.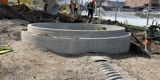 Drainage and Storm Sewers
Storm sewers, catchbasins and roadside ditches help drain excess water from roads in the Township of Scugog.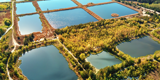 Stormwater Management Ponds
Stormwater Management Ponds (SWMPs) are facilities designed to collect runoff from the local storm sewer system following either a rainfall or snowmelt event, or activities such as watering lawns and washing cars. SWMPs are built to temporarily hold this water, provide treatment to remove the pollutants, sediment, and then slowly release it back into our waterways. The Township of Scugog maintains 12 stormwater management ponds.
Contact Us
Public Works and Infrastructure Services
181 Perry Street | Port Perry, ON 
905-985-7346 x 112 | F: 905-985-9914